Unsecured Funds
No personal guarantee &
no collateral required*

Quick Funding
Get funded within
a few business days

Simple & Easy
Past credit issues may
NOT be a problem

Fast Approvals
Within 24 hours of
application
What our clients are saying:


5 Star
Rating on TrustPilot

Unsecured Funds
No personal guarantee &
no collateral required*

Quick Funding
Get funded within
a few business days

Simple & Easy
Past credit issues may
NOT be a problem

Fast Approvals
Within 24 hours of
application
Intro To Bad Credit Business Loans

Contrary to popular belief, bad credit is not always an indicator of irresponsibility. Many hard-working business owners have bad credit for reasons beyond their control. It's very common to use personal finances to keep a business alive in its early years. And once your score takes a big hit, it takes a long time to build it back up. For these reasons, companies like United Capital Source have access to Bad Credit Business Loans.
These products are accessible for business owners with bad credit, but they lack fees and repayment systems that would further endanger your finances. Unlike traditional products, business loans for bad credit are carefully structured so that you can make payments without putting too much pressure on cash flow.
In this guide, we'll answer the following questions and more:
What Are Bad Credit Business Loans?

Bad Credit Business Loans are types of business loans that can be accessed by borrowers with credit scores below 600. They are designed to give you enough cash to keep your business running, pay off existing debts, or cover any short-term expenses. Terms usually do not exceed eighteen months, and interest rates are on the higher side. However, the borrowing amount and repayment structure are specifically selected to make the loan relatively easy to repay. This allows the borrower to qualify quickly for another loan and possibly raise their credit score in the process.
Read the rest of this guide to learn about bad credit business loans, what's available, and what to watch for. Then you will have the information you need to make the wisest decision for your business.

Funding Amount
$10K – $5M

Funding Term
3 months – 10 years

Rates
Starting at 9%

Speed
1-3 Business days
How Do Business Loans For Bad Credit Work?
The following types of business loans are available to borrowers with bad credit:
As you can see, the only business loans offered by UCS that are missing from this list are Business Term Loans and SBA Loans. This is because once a Business Term Loan loses its traditionally high borrowing amount, low interest rate, and long terms, it essentially becomes a short-term Working Capital Loan. SBA Loans carry the lowest interest rates on the market and are therefore only available to borrowers with excellent credit.
Unlike these two products, every loan on this list can be repaid quickly and provide a modest amount of funding at best. Borrowers can choose from a variety of repayment systems rather than being forced into fixed, monthly payments. Even a short-term Working Capital Loan can be repaid weekly, bi-weekly, or monthly.
Also, some Bad Credit Business Loans place more emphasis on cash flow and sales volume than credit score. For example, your borrowing amount for a Merchant Cash Advance is based entirely on monthly debit and credit card sales. With Accounts Receivable Factoring, your credit score is basically irrelevant. Revenue-Based Business Loans have similar criteria as a Merchant Cash Advance, except the borrowing amount is based on your total monthly sales, not just transactions from debit and credit cards.
And though Equipment Financing carries the same repayment structure as a Business Term Loan, the desired equipment is used as collateral. This decreases the heightened risk associated with bad credit.
Bad Credit Business Loans – Research, Facts & Reports
54% of applicants with medium or high-risk credit scores were likely to apply to online lenders in 2018, compared to just 41% who apply to small banks. Source: 2019 Small Business Credit Survey
57% of small business credit applicants look for funding of less than $25K Source: 2019 Small Business Credit Survey
Generally speaking, most traditional lenders require a minimum personal credit score of 650 for business loan approval. And many traditional business credit lenders prefer a minimum personal credit score of 680. Source: https://www.experian.com/blogs/ask-experian/how-to-get-a-small-business-loan-with-bad-credit/ Experian
What Are The Advantages of Business Loans With Bad Credit?
The primary advantage of business loans for poor credit is accessibility. As long as your business has a steady cash flow, bad credit won't prevent you from being approved. Strong sales can decrease the effect that bad credit has on the loan's cost and terms.
Borrowers can also use the funds to pay off existing debts, which is a common cause of bad credit. Many business lenders don't allow borrowers to use funds for this purpose or even approve borrowers with too much existing debt.
Another advantage is the establishment of a track record of timely payments. Not every bad credit business loan will directly impact your credit score. But now that you've proven that you can pay off a loan on time, you will likely qualify for a second, larger round of funding with lower interest and more favorable terms.
For this reason, you might think of a bad credit business loan as your first step towards obtaining all the financing you need to accomplish your goals. After all, bad credit doesn't mean your goals are unattainable. It just means you'll have to wait a little longer to reach them.
What Are The Disadvantages of Business Loans With Bad Credit?
Bad credit business loans are not cheap and do not offer high borrowing amounts. However, these characteristics are the natural result of bad credit. Lower borrowing amounts, high rates, and shorter terms are implemented to offset the heightened risk of repayment.
The only other disadvantage stems from the scenario of choosing the wrong product or repayment frequency. Remember, Bad Credit Business Loans are supposed to be easy to pay back. But every business has different cash flow cycles. Thus, what's easy to pay back for one company could put another company in financial straits. In other words, if you choose the wrong product, the high rates and repayment structure (i.e., daily, weekly, bi-weekly) could do more harm than good for your cash flow. And when you've run out of options for business funding, the pressure could cause you to make a hasty (and likely incorrect) decision.
For this reason, you might think of a small business loan for bad credit as your first step towards obtaining all the financing you need to accomplish your goals. After all, poor credit doesn't mean your goals are unattainable. It just means you'll have to wait a little longer to reach them.
PROS
Get access to funds quickly
Unsecured programs available
Less than prefect credit accepted
Use for a variety of business purposes
CONS
Higher rates & fees than with traditional loans
Might require collateral
Might require automatic withdrawal repayment
Business Loan Product Comparison
| Loan types | Max Amounts | Rates | Speed |
| --- | --- | --- | --- |
| Merchant Cash Advance | $7.5k – $1m | Starting at 1.09 | 1-2 business days |
| SBA Loan | $50k-$10m | Starting at 5% | 3-5 weeks |
| Business Term Loan | $10k to $5m | Starting at 5% | 1-3 business days |
| Business Line of Credit | $10k to $250k | Starting at 8% | 1-3 business days |
| Receivables/Invoice Factoring | $50k-$10m | Starting at 5.8% | 1-2 weeks |
| Equipment Financing | Up to $5m per piece | Starting at 5% | 3-10 business days |
| Revenue Based Business Loans | $10K – $5m | Starting at 9% | 1-3 business days |
Who Qualifies For Bad Credit Business Loans?

Approved businesses generally met the following criteria:

Annual Revenue
$120K+

Credit Score
525+

Time in Business
6 months+
How To Apply For Bad Credit Business Loans:

The speed of the approval process depends on your desired product and your business's financial health. Some products can be approved in under 24 hours, while others can take up to one week. Here's how to apply:
Step 1: Choose the Right Product
Bad Credit Business Loans come in many forms. To choose the right product, you must first consider which repayment structure poses the least risk for your cash flow. Is your business highly seasonal? Are you prone to occasional dips in revenue? It would be best to consider the funds' intended purpose since this directly affects how long it will take you to pay it back.
Step 2: Gather Your Documents
Depending on your desired product, you may need the following documents and information:
Voided business check
Bank statements (3 Months)
Credit card processing statements (3 Months)
Accounts receivable aging report
Accounts payable report
Drivers license
Step 3: Complete Application
You can begin the application process by calling us or filling out our one-page online application. Either way, you'll be asked to enter the information from the previous section along with your desired funding amount.
Step 4: Speak to a Representative
Once you apply, a representative will reach out to you to explain the repayment structure, rates, and terms of your available options. This way, you won't have to worry about any surprises or hidden fees during repayment.
Step 5: Receive Approval
The process generally takes a few business days, depending on which product you choose. Once the file is approved and closed, funds should reach your bank account in 1-2 business days.
Your Business Loan Gets Set Up – Now What?
Your business loan isn't just a way to get financing for your business. It's also an excellent opportunity to start building (or improving) your credit.
Regardless of the type of business loan you get, make all of your required payments on time and in full. If you get a business credit line or another form of revolving credit, keep your balance below the credit limit.
Consistently making your business financing payments on time and in full will positively impact your credit. And that means preferred rates and terms when you next need business financing.
What If I'm Declined For Bad Credit Business Loans?

After assessing your business's financial health, we may conclude that a business loan would do more harm than good to your cash flow at this moment. In this case, we might recommend another tool for financing your business, like a business credit card or even a personal loan. Both options are usually much easier to qualify for than business loans.
If you want to raise your credit score as much as possible before applying, you should consider these credit repair services. We can help you identify the issues that keep your score down and develop effective solutions for eliminating them.
People Also Ask:

How Bad Is "Bad Credit"?
Bad credit is generally defined as a credit score between 300 and 629. It's broken down like this:
800 plus is an excellent rating: You have no late payments or collections on your credit report. You have a long history with the credit rating bureaus and will likely qualify for the lowest rates at any financial institution.
740-799 is a very good rating: You have no late payments or collections on your credit report. You likely have a shorter history with the rating bureaus and likely qualify for the lowest rates at any financial institution.
670-739 is a good rating: You don't have any recent late payments or collections on your report. You should be able to get a pretty good rate at any lender.
580-669 is a fair rating: This means you likely have some recent late payments or collections, but not currently. You still should be able to get a pretty good rate at just about any lender.
300-579 is a very bad rating: This means you struggle with collections and have also struggled in the past. Because of your credit rating, you are likely going to have to pay a higher interest rate. However, some lenders will offer better rates than others.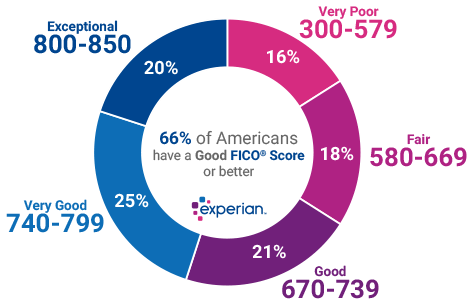 How Important Are Credit Scores In Business Loan Applications?
Several criteria come into play when traditional lenders review business loan applications. However, they do pay special attention to credit scores. (Note: there are different types of credit scores. Many traditional lenders use FICO scores, developed by The Fair Isaac Corporation, to assess personal and business borrowers' creditworthiness.)
Your credit score is a number that represents how likely you are to pay back your loans. It's based on your previous borrowing history. Lenders look at business owners' personal credit scores before offering credit to new businesses or if a personal loan guarantee is required.
Credit reporting agencies calculate credit scores based on what's known as "The 5 C's of Credit." They include
Character – this is based on your credit history of repayment
Capacity – your debt-to-income ratio, or how much debt you carry in relation to your income
Capital – your money – especially the money you and the other owners have already invested in the business
Conditions – the loan's purpose, the amount of the loan, and the current market or economic conditions, such as interest rates
Collateral – an asset to secure the loan, such as real estate, equipment, or even vehicles
How Do I Improve My Chances of Getting a Business Loan With Bad Credit?
Offer Collateral – To boost the likelihood of getting a "yes" to a business loan with imperfect credit, offer collateral as security for the loan. This could be something like equipment or even your accounts receivables or credit card sales.
What Do Business Lenders Look At Besides Credit Score?
When we assess aspiring borrowers with bad credit, we look at other factors to determine their ability to repay. These other factors include:
Time in business
Annual revenue
Cash on hand
Available collateral
Industry
The last item on this list stems from the fact that bad credit may be more common in specific industries. Your industry also gives us an idea of which repayment structure works best for your cash flow.
Time in business is at the top of the list because it shows that you've managed to get your business out of financial dilemmas before. In other words, you're more likely to repay a loan when you have more experience keeping your business alive during desperate times. Lots of companies make money, but only some stay in business for years on end.
As for collateral, it's important to remember that business lenders usually do not accept your assets' full monetary value as security. For example, let's say your collateral is worth $10,000. That might be enough to secure a $6,000 business loan.
Do I Need Collateral?
Generally, our network of lenders doesn't need collateral for most programs. Instead, business loan terms are structured differently for those who have poor credit scores.
Why Should You Get a Business Loan When You Have Bad Credit?
There are many benefits to getting a business loan when you have bad credit. If you choose a short-term Working Capital Loan, just a few months' worth of payments can dramatically raise your business credit score. This is a much more effective and efficient way to offset previous credit issues than getting something removed from your credit profile. Business lenders and potential business partners would rather see a previous credit issue followed by a paid-off loan rather than, well, nothing at all.
Getting a business loan allows you to create a new payment history. This record of timely payments shows that you're no longer the kind of person who misses payments or defaults on loans.
A business loan also gives you another source of funding, so you don't have to continue using other sources, like your credit card. One of the key factors for determining your credit score is your credit utilization rate. This reflects how much of your available credit you use. If you use your credit cards too much (or nearly max them out), your utilization rate gets too high and keeps your credit score down. Thanks to a business loan, you can only finance certain expenses with a credit card and keep your utilization rate low.
Which Bad Credit Business Loans Get Reported To Credit Bureaus?
Payments for Working Capital Loans and Equipment Financing usually get reported to business credit bureaus. The other types of Bad Credit Business Loans are much easier to repay because payments are deducted automatically. Since there's no manual effort required on your part, your payment history for these loans will have no impact on your business credit score.
If raising your score is a top priority, check how often payments are reported. It can take anywhere from 30 to 90 days for the information reported to a business credit agency to show up on your report. The sooner your reported payments appear on your report, the quicker you raise your credit score.
Can I Finance Inventory With Bad Credit?
Using inventory as collateral can help you get a business loan with bad credit. However, this strategy only works under certain conditions:
The product will likely sell quickly
Your business has a solid sales history
Your busy season is approaching
The type of inventory matters, as well. Different types of inventory are easier or harder to sell in the event of default. This is reflected in the inventory's liquidity. The easier it is to sell, the more of its value you can borrow.
Would My Business Benefit From a Bad Credit Business Loan?
Businesses borrow money for a wide variety of reasons, including
Expanding to a new location
Investing in new equipment
Purchasing supplies to fulfill a large customer order
To deal with day-to-day expenses and smooth out cash flow
Helping weather off seasons when sales are slow
To consolidate other debt
Why Do I Need a Business Loan With Bad Credit?
You have a poor personal credit history, including missed or late payments
Your business shows evidence of consistent strong sales
You could provide collateral if needed
Quick access to funds is a priority
The amount you need to borrow falls between $10k and $5M
You want and need to expand your business now
How To Apply For Bad Credit Business Loans
Through United Capital Source

Apply Online in a few minutes
Use our simple online application to submit a request for business funding. If you need any help along the way, just give us a call, chat or email.

Talk to an expert advisor on funding options that best suit your business needs
An expert, knowledgeable account executive will walk you through all the fine details and the requirements. This is to ensure you have all the info you need.

Finalize the application and get the funds sent to your business bank account
Once your funding has been approved & closed, the lender sends the funds to your account so you can start using it to grow your business.
Industry Experts
We know the ins & outs of business funding.

We're Available
Always willing to help even after work or on weekends.
We're here to answer your questions. Contact us anytime:
Ready to grow your business?
We'll find you the right program.
Complete a simple application in a few minutes
and see how much you qualify for.
*Available on certain programs.