Small businesses are often recommended to cover certain operational expenses with business credit cards. But not everyone can qualify for the most advantageous options. And when you carry a balance month-to-month, it's very easy to accrue a dangerous amount of debt unknowingly. Entrepreneurs who are facing these circumstances might consider a charge card instead.
Charge cards are a lot like credit cards, except for one major difference. You have to pay off your full balance at the end of each month instead of gradually paying off the balance with smaller payments. For this reason, charge cards have no interest rates and very few fees.
Some charge cards are also designed for specific industries. They might offer rewards programs for common expenses or accommodate unique cash flow circumstances.
One of the more recent examples is the Brex Corporate Card, designed exclusively for tech startups. Brex also offers a corporate cash management account that directly integrates with Brex cards called Brex Cash. You can use cash from this account with Brex 1, a corporate card that functions like a debit card for your Brex Cash account.

In this guide, we'll answer the following questions and more:
What Is the Brex Corporate Card?
The Brex Corporate Card is a charge card that has many differences from the typical business credit card. Not only is it much easier to qualify for, but the Brex Corporate Card also carries a credit limit that is 10x to 20x higher than most competitors. Customers typically receive a credit limit of 15% to 40% of the cash in their deposit bank accounts.

Additionally, signing up for the Brex Corporate Card gives you a myriad of discounts and credits for common business expenses in the tech industry. And if you make the Brex Corporate Card your primary card, you can earn extraordinary rewards on expenses like travel, food, and recurring software charges.
What Is the Brex 1 Card?
The Brex 1 Card is just like a debit card, save for a few small differences. When you use the card, the money gets deducted from your account at the end of the day instead of right away.
Also, cardholders have a daily spending limit of 80% of their Brex Cash balance.
How Does Brex Cash Work?
Brex Cash is essentially a bank account for Brex customers that lacks several drawbacks of traditional business bank accounts. Customers get free domestic and international wire transfers, free ACHs, and free mobile checks. Brex Cash does not carry the fees associated with traditional bank accounts, like minimum balance fees, overdraft fees, maintenance fees, returned deposit fees, inactivity fees, and account closing fees. The absence of a minimum balance fee stems from the fact that there is no minimum monthly balance.
If you currently use the Brex 30 Card, opening an account with Brex Cash increases your credit limit by 50%. You might be thinking, "What if I don't have this card and don't meet the requirements for eligibility?" Well, that's why Brex 1 was created.
What Do You Need to Apply for the Brex Corporate Card?
To apply, you need your Employer Identification Number (EIN), business bank account number, and information regarding how your company is funded (investors, venture capital, etc.).
What Do You Need to Apply for the Brex 1 Card?
To apply for the Brex 1 Card, you must have a Brex Cash Account, and you cannot already have the Brex 30 Card. Brex created the former card for customers who cannot meet the latter card's fairly steep requirements.
For example, if you don't belong to an industry related to technology or life sciences, your minimum monthly balance for the Brex 30 Card would be at least $100,000. Professional services like accountants or medical practitioners would have to maintain a monthly balance of $250,000.
Other Important Factors for the Brex Corporate Card
Eligibility and credit limit are based on your spending patterns, cash balance, and the amount of money you've raised from investors. There's no credit check, personal guarantee, or collateral required. If the business cannot pay back its debt, the owner doesn't have to worry about seized personal assets.
Now for the cold facts: Applicants usually need at least $20,000 in their business bank account and/or must perform at least $50,000 in sales every month, depending on what line of business they're in.
Here are the other key criteria:
At least two years in business
Functional website and web presence
Must pass Experian credit check
At least three months of "runway" (vs. cash burn)
Must not be in the following industries: restaurants, consulting, construction, manufacturing, used goods
There's no annual fee, nor are there any foreign transaction fees. You can also get four extra physical cards for free, just if you want someone else (i.e., co-founders, employees) to have a copy. After that, each additional card costs $5 per month.
With no fees or interest rates, you're probably wondering how Brex makes any money. It turns out they have a partnership with Mastercard, which charges a merchant fee whenever someone swipes the card. Brex makes money by taking a cut of that fee.

With the Brex Corporate Card, You Need to Know That:
When you sign up for the Brex Corporate Card, you automatically earn 75,000 bonus points. The points system is arguably the card's most desirable feature, but we'll get to that later.
Earlier, we established that this card is designed for tech startups. Well, when you sign up, you gain a myriad of discounts and credits for common expenses in the tech industry. This includes digital marketing services, project management tools, and CRM (Customer Relationship Management) platforms.
Here are the tech-related discounts and credits you get for simply signing up:
Amazon Web Services: $5,000 in credit to be used over one year.
Google Ads: Up to $150 toward Google Ad spend.
WeWork: Up to 15% off list price for a six-month membership at a US location
Carta: 20% discount on the first-year subscription, implementation fees waived
Salesforce: 25% subscription discount, up to $375
Twilio: $500 in credits, must be used over one year
SendGrid: $130 off a monthly subscription of the new Pro 100K Plan
Zendesk: $436 worth of credits per month for your first 12 months
Instacart: $25 off three orders of $75 or more
Hubspot: 40% off subscription for the first year, 20% off the second year
Caviar: $35 off of three orders of $75 or more
Expensify: 50% discount for your first six months
Solium: $500 off first 409a valuation
DocSend: 3 free months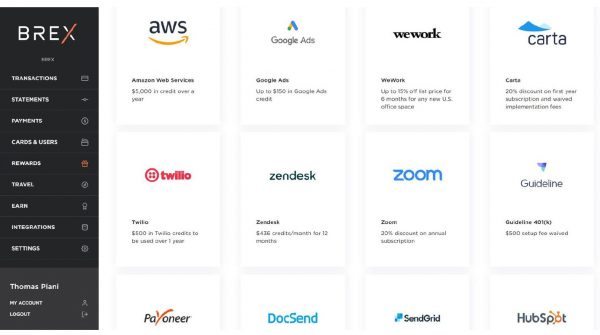 How Do You Qualify for the Brex Rewards Program?
Before explaining the rewards program, it's crucial to note that the following rewards are only available for "Brex Exclusive" members. To become a Brex Exclusive member, all you have to do is make Brex your exclusive or primary corporate card. In other words, you cannot have another business credit card or charge card linked to your business bank account. The Brex Corporate Card must be your go-to card for business expenses.
If you are not an Exclusive member, your only rewards are 1x points back on all purchases or one point for every dollar you spend. All Brex Corporate Cardholders can also redeem their rewards points in several ways. First, you can redeem your points for cash back at a value of 1 cent per point. It usually takes 1-2 days to process redemptions, and there's no minimum for redemption amounts.
The second way is by transferring your points to the following airlines at a 1:1 ratio:
AeroMexico Club Premier
Cathay Pacific Asia Miles
Avianca LifeMiles
Air France/KLM Flying Blue
Qantas Frequent Flyer
Singapore Airlines KrisFlyer
JetBlue TrueBlue
What Is the Brex Corporate Card Rewards Program?
Brex Exclusive members get 7x (seven points per dollar) for rideshare and taxi purchases, 4x points on travel expenses booked through Brex Travel (flights, hotels, and Airbnbs), 3x points back on restaurants and coffee shops, and 2x points back on recurring software expenses.
Brex's rewards program is based on tech entrepreneurs' common expenses like the aforementioned discounts and credits. There's no cap for rewards points, and they never expire.
To understand the rewards program's true potential, we must envision typical day-to-day scenarios for tech startups. For example, most tech startups are located in cities, where it's more sensible for employees to use ridesharing services and taxis than personal cars. Many startups cover employee transportation expenses with business credit cards. These expenses could theoretically add up to around $1,000 per month. Since Brex offers 7 points per dollar on ridesharing or taxis, that company would earn $70 in points per month.
Business owners can also use these travel rewards for every major airline and lodging company. This includes Southwest Airlines, which is reportedly omitted from most other business credit card rewards programs. And if you were surprised to see Airbnb in the program, you're not alone. Brex is currently the only business credit card or charge card that allows cardholders to use points for Airbnb stays.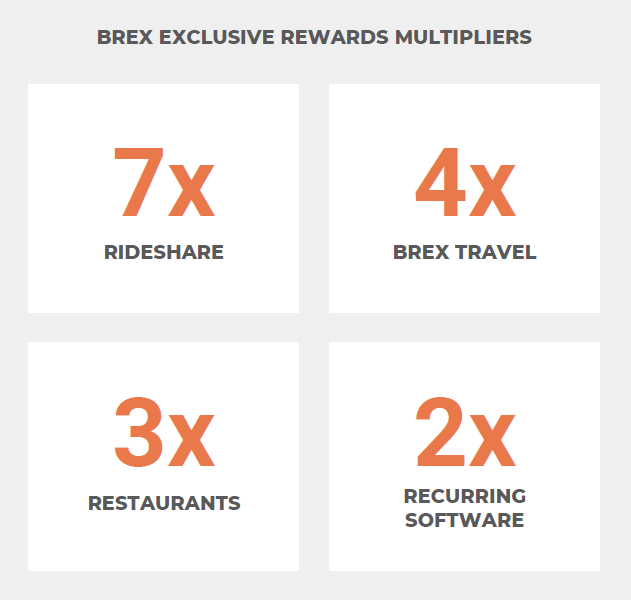 Other Important Factors for Brex 1 and Brex Cash:
Brex Cash is available to any US-based company that does not belong to Brex's prohibited or restricted businesses list. Sole proprietorships are also ineligible.
And yes, you can open a Brex Cash account even if you have other bank accounts. There is no limit to the number of bank accounts you can have as a Brex Cash customer.
Brex Cash customers gain access to the standard rewards program for Brex cardholders. This bountiful program includes a $5,000 credit to Amazon web services over two years, 20% off an annual Zoom subscription, 25% off an annual Monday subscription, and much, much more.
The Brex 1 Card does not have a points-based system in which customers earn rewards through transactions. However, all Brex 1 cardholders qualify for the aforementioned standard Brex rewards program.
How To Apply for the Brex Corporate Card:
Applying for the Brex Corporate Card takes just a few minutes. Here's how to get started:
Step 1: Visit Website
First, go to the website for the Brex Corporate Card and click "Apply now."
Step 2: Fill Out the Application
The application requires your name, work email, and basic business information like your role in the company and your external funding sources. Then, click "Create Account."
Step 3: Link Banking Information
Brex obtains your financial information when you link Brex to your business bank account. This also allows Brex to see if your account is linked to any other business credit cards.
Step 4: Use Virtual Card
If you are approved, you will immediately gain access to a virtual card. Your physical card should arrive in the mail in three to five business days.
Brex Corporate Card: Post Funding
Once you start borrowing funds, you have 30 days to pay off your full balance. If you don't pay off your full balance, Brex may close your account.
Also, your credit limit fluctuates per your business's cash flow. Remember, Brex is linked to your bank account, so it knows when your balance goes up or down. If your balance is higher than it was when you initially applied, your credit limit may increase. On the other hand, if your business depletes most of its bank balance, the credit limit will likely decrease until the balance recovers.
This system is called "dynamic credit." It essentially prevents businesses from unknowingly spending money they can't afford to pay back at the end of the month. Businesses also don't have to contact Brex to increase their credit limit or wait several months (at least) to qualify for credit increases.
What Are the Advantages of the Brex Corporate Card?
We'll start with eligibility. It is extremely rare to find a business credit card that does not require a personal guarantee, credit check, or collateral. A personal guarantee makes the business owner personally responsible for the business's debts. If the business fails, the credit card company can seize your personal assets. Brex has no personal guarantee because they know cardholders might not be comfortable risking their personal assets on a business that has only been alive for a few months or so.
Owners of young businesses might also have little credit history or poor credit from using personal credit cards on expensive startup costs. The lack of an annual fee is a rarity, especially when you consider the extensive rewards program.
And while other business credit cards have fairly lengthy applications, business owners can complete the Brex Corporate Card application in a matter of minutes. You can even start using the virtual card immediately after approval, which can be very helpful since every day counts in the business world.
Lastly, Brex's sign-up bonuses and rewards program could theoretically save a tech startup tens of thousands of dollars a year. Hubspot, Salesforce, and Zendesk are three top-rated tools for tech startups that become cheaper with the Brex Corporate Card. Many tech entrepreneurs don't do much traveling, but virtually all tech startups have recurring software expenses. Brex offers 2x points back for these expenses and therefore incentivizes startups to acquire more of the tools they need to succeed.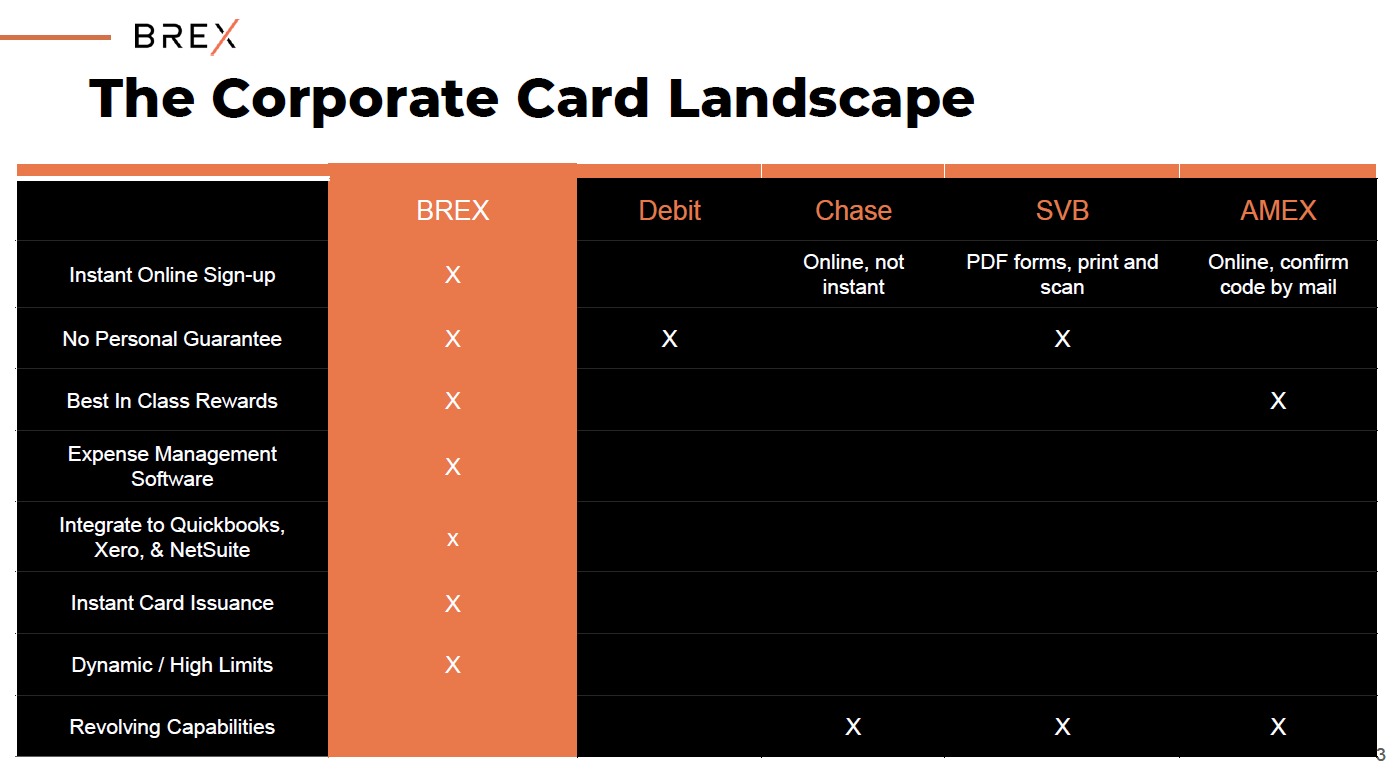 What Are the Disadvantages of the Brex Corporate Card?
As we said before, well-funded tech startups are the only businesses that would reap more advantages than disadvantages from the Brex Corporate Card. We can't recommend the card for all tech startups because you need at least $50,000 in your business bank account to qualify. And unless your business has a steady revenue stream, paying back the full balance every month could be an issue. Hence, new businesses that have yet to find their legs should look elsewhere for business credit cards.
If Brex's target market wasn't already narrow enough, the card's rewards program has an additional requirement. You cannot have any other business credit cards linked to your business bank account. So, to access the rewards program, you must be far enough in your journey to have obtained substantial funding but not far enough to have already obtained a business credit card.
Businesses that frequently use ridesharing services and taxis will likely reap the most benefits from the rewards program. If your business does not fit these criteria, you'd probably prefer a card that offers 7x points back for another expense, like travel or lodging.
And though the sign-up bonuses do feature various popular software tools, many tech startups don't use a single one of them. These startups might be more intrigued by discounts and credits to similarly popular tools like Slack, Monday, or Kissmetrics.
Frequently Asked Questions
Here are some common questions about the Brex Corporate Card, the Brex 1 Card, and Brex Cash:
Does the Brex Corporate Card Have an Annual Fee?
Your first five cards are free. Each additional card costs an extra $5 per month.
How Do I Pay My Bill for the Brex Corporate Card?
Your full balance is automatically deducted from your business checking account each month.
How Do I Redeem Points for the Brex Corporate Card?
You can redeem points for a statement credit through Brex's online dashboard.
Which Types of Businesses Should Use the Brex 1 Card?
You could draw this conclusion from the rewards program alone. Like all Brex offerings, Brex Cash and the Brex 1 Card are geared towards early-stage tech startups. Odds are, a more established business has already built an arsenal of subscription services and isn't looking to take on more recurring expenses.
An established business has also probably developed a solid banking partnership. Though Brex Cash customers can have other bank accounts, this might not make sense considering Brex's complete lack of fees. In other words, why run the risk of incurring fees from another bank account when you can eliminate this risk?
Thus, an early-stage tech startup should consider before opening a traditional bank account and getting a traditional debit card. Brex may be a safer option for their tumultuous finances, and no bank can compete with their standard rewards program.

Which Types of Businesses Should Use the Brex Corporate Card?
The particular requirements for the Brex Corporate Card (and its rewards program) should give you a pretty clear picture of their target market. Above all else, your business should be heavily capitalized and/or have a steady revenue stream. Regardless of where the money comes from, you'll need to maintain a high bank balance every month to pay back the card's balance in full. If you have no concerns about that department, you can move on to the next most important requirement: the tech industry.
Since there are many business credit cards to choose from, businesses often narrow their search by prioritizing sign-up bonuses and rewards programs. If a well-funded tech startup were to base its decision on these factors, the Brex Corporate Card would likely be a no-brainer. Not only would the company save money on vital resources, but it would also have a much easier time deciding which resources to choose. Tech startups have a ton of choices when it comes to software tools. With Brex, they can access some of the most reputable options for discount prices. This makes the alternatives significantly less appealing. Why bother shopping around when there's no competition in terms of price?
The rewards program is obviously geared towards individuals who use ridesharing services as their main source of transportation. Such individuals usually live in big cities and rarely go more than a few days without using Uber, Lyft, etc. Brex's rewards system for ridesharing is so advantageous that it doesn't really make sense to get this card if you rarely use the aforementioned services.
What if I'm Declined for the Brex Corporate Card?
Brex's target market is tech startups that have all the funding they could ever want, and almost all of it has come from investors. Has your business already begun earning steady revenue on its own? If so, your business is probably too advanced in its development to meet Brex's criteria.
Your application might also be declined if not enough of your funding comes from investors. Businesses that operate on funds from investors are less likely to run out of money. And when you always have money at your disposal, you have no trouble paying your full balance every month.
In this case, you should look into the myriad of other advantageous and highly accessible business credit cards on the market. Many business credit cards have loose requirements for personal credit score and carry very few fees. And if you pay off your balance at the same rate as a charge card, you won't have to worry about high interest rates or limited borrowing power.
Another option is financing your business through other means, like small business loans. Many business financing companies do not require high credit scores, personal guarantees, or more than six months in business. Also, the occasional slow month won't automatically disqualify you from competitive interest rates or longer terms.
If Brex declined your application because of your cash flow, you must find a business financing company specializing in your financial circumstances.
Making Your Decision
In summary, the Brex Corporate Card is a sensible choice for very young startups that have recently raised a great deal of funding. Here at UCS, we give Brex a 4.8 out of 5 rating and highly suggest working with them if you qualify. If you have yet to raise funding or are already fully operational, it's probably best to consider other options.
Ready to grow your business?
We'll find you the right program.
Complete a simple application in a few minutes
and see how much you qualify for.
*Available on certain programs.